Improving sustainable livelihoods and increasing the income of smallholder families affected by climate change in cross-border municipalities in the dry corridor of Nicaragua and Honduras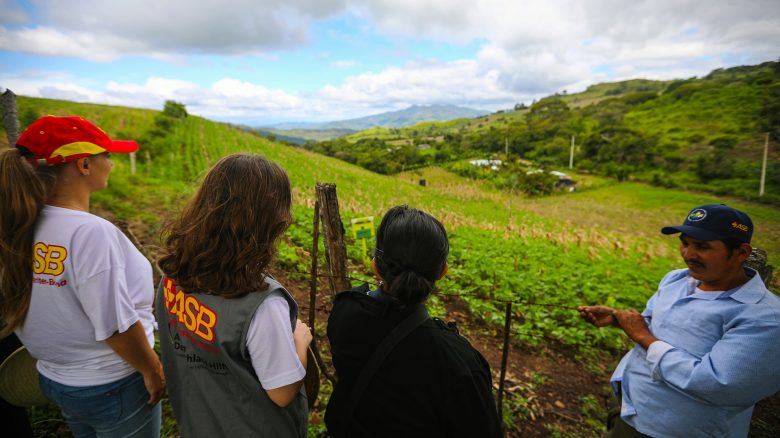 Countries: Honduras and Nicaragua
Type of project: Food Security/ Climate Change
Donors: Federal Ministry for Economic Cooperation and Development (BMZ) and ASB, ADEPES and UNAG's own funds.
Project duration: 01 Dec 2020 - 31 Mar 2024
Budget: € 1,111,111
Direct beneficiares: 17.700
Status: Active
Map of the areas of intervention:
Local partners:
Nicaragua: UNAG
Honduras: ADEPES
Intervention logic:
Impact:
Contribute to the reduction of poverty of smallholder families in the cross-border area of the dry corridor of Honduras and Nicaragua through the sustainable strengthening of livelihoods and the increase of their incomes
Objetive:
Vulnerable smallholder families in the cross-border dry corridor area of Honduras and Nicaragua increase their resilience to drought, increasing their incomes and improving their food security by strengthening their organizational, productive, entrepreneurial and commercial capacities
Outcomes:
Outcome #1:
Local agricultural organizations have strengthened their capacities to organize, with the active participation of women, youth and persons with disabilities.
Outcome #2:
Smallholder families in the intervention zone are transitioning from a traditional agricultural production system to a drought-resilient agricultural production system.
Outcome #3:
Smallholder families and organizations have better access to inclusive business initiatives with a value chain and market economy approach at the local and/or national level.
Outcome #4:
Smallholder organizations influence food security and drought resilience at the local, national and regional levels through the creation of value chains and coordination with public-private actors.
Value-added elements of the project:
• Multi-level (local, national and regional)
• Multi-sectorial (capacity building, inclusive business, climate change adaptation and mitigation)
• Multi-stakeholder (civil society and authorities)
• Strong participatory and local reference character
• Pilot character and multiplying effect
• Inclusive Approach (Active inclusion of people with disabilities)
• Approach to conservation and protection of the environment