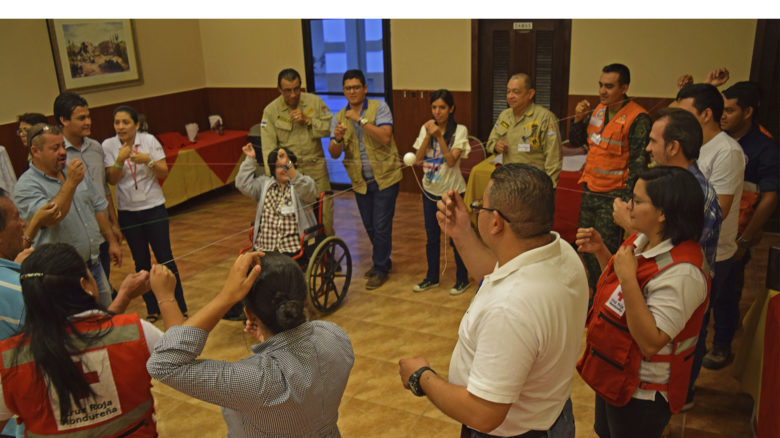 A person with disability, an agent of change
From recipients of aid, to agents of change
For the first time, various trainings of trainers (ToTs) in "Inclusive disaster risk reduction in Central America" were held by ASB in Honduras, El Salvador and Nicaragua, with the support of our local partners FECONORI (Federation of Associations of Persons with Disabilities of Nicaragua) and CORDES (Foundation for Cooperation and Community Development of El Salvador).
A total of three five-day workshops were held, where participants increased their knowledge about disability inclusive disaster risk reduction and its implementation. They learned methods on facilitating the application of inclusion measures, on raising awareness and on training processes on inclusion of people with disabilities and older adults in disaster risk reduction in their countries of origin. These ToTs have been carried out in the framework of the Project "Protection and Security: inclusion of persons with disabilities and older adults in disaster management in Central America".
A total of eighty people participated, including technicians and officials from the National Risk Management Systems of Central America (COPECO - Honduras, SINAPRED - Nicaragua and Civil Protection - El Salvador), likewise the Coordination Centre for Disaster Prevention in Central America and the Dominican Republic (CEPREDENAC), as well as government institutions such as ministries and secretaries of health, education, human rights, governance, family, agriculture (among others) and representatives of organizations of persons with disabilities, older adults, firefighters, the Red Cross and municipal technicians.
For some professionals in Disaster Risk Reduction, these events have been a first contact to valuable information about inclusion and how its presence in emergency response plans can save lives. It has also meant a paradigm shift about people with disabilities, overcoming the role of recipients of aid to agents of change.
For the complete photo gallery: https://bit.ly/30BxuJE